Camapaign Stories
Get your brand in shape with these gym promotion ideas!
Whether it's a walk in the park, a spin class, or a boot camp, we have promotional products suitable for any level of active lifestyle! Giving the gift of fitness related promotional products with your companies name and logo not only motivates your current (and future) customers to get in gear, it also promotes your brand!
As more and more people are seeking ways to keep fit at home with the COVID-19 pandemic leaving restrictions on fitness centres, workout clubs can now help their members stay fit and workout at home while successfully branding your company.
The health and fitness industry can be extremely competitive and the use of promotional products can help you stand out from the crowd and put your name out there, as a form of cheap and effective branding.
With New Year's coming up and people making resolutions to join the gym, make sure you have branded fitness products that keep them coming back!
Even if you are not in the fitness industry and are just looking for a gift or giveaway for your staff or customers, customised fitness gear is a great way to motivate anyone who struggles to keep up with their health and fitness New Year's resolutions, show your customers and employees that you care about their health and promote your business all at the same time.
Make your brand part of their fitness journey and get inspired by some of the customised products that we have to offer.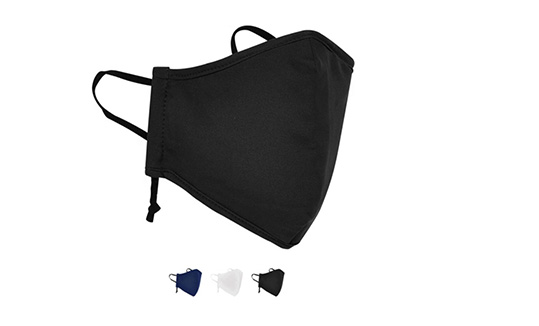 Personalised Facemasks
Stay safe while promoting your brand! With the new restrictions in place and gym-goers now having to wear facemasks while working out, now is the perfect time to order personalised face masks for your staff and customers.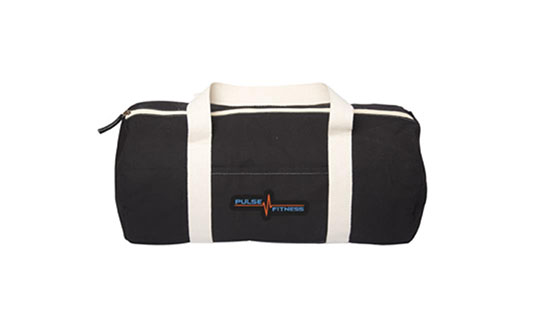 Sports Duffel Bag
Get your brand noticed and stay in style at the gym or on-the go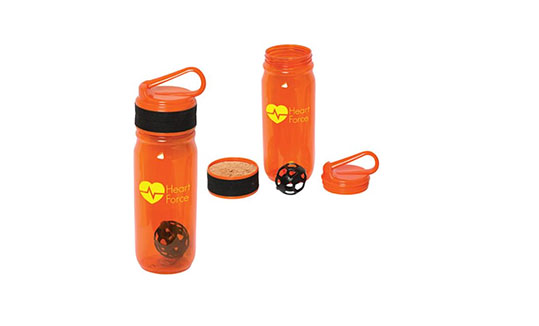 Shaker Bottle
Shakers will help boost their energy and your brand!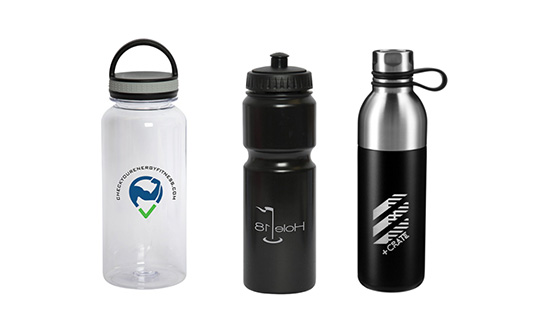 Sports Bottle
Put your logo where your mouth with sports water bottle. It's the perfect giveaway for health and fitness clubs, or to kick-start a lifestyle challenge at the office.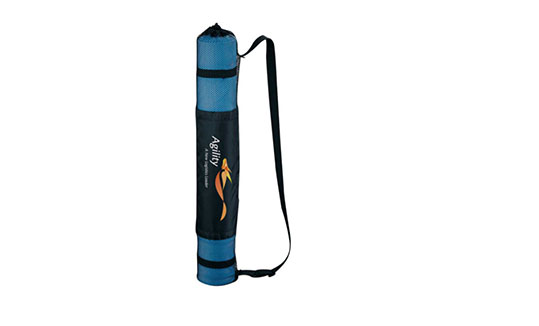 Custom Yoga Mats
Add a popular yoga mantra and your logo to create personalized yoga mats! Choose product and imprint colors that match your company theme. Namaste!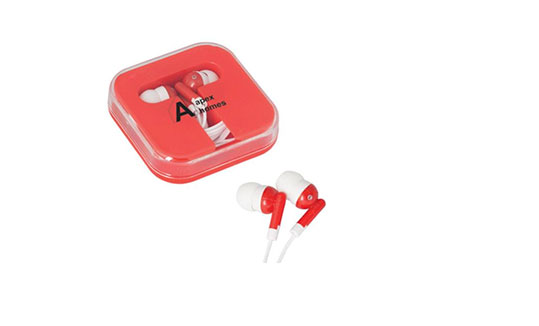 Personalized Earbuds
Earbuds are a low-cost branding item that will get used often and your brand noticed!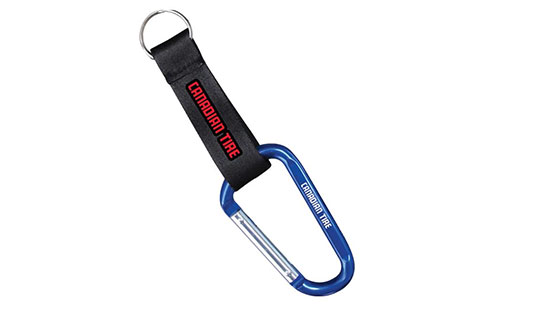 Carabiner keychains
Custom carabiner keychains attach to equipment and clothing to keep personal property such as keys and gym access cards safe and organized.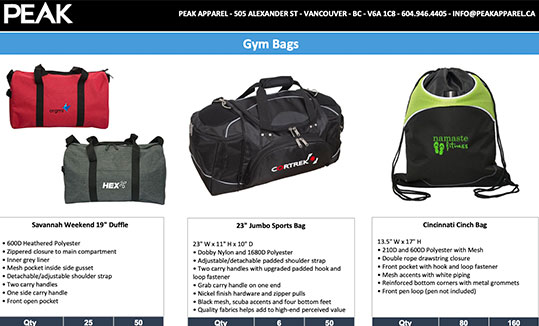 2021 Fitness Catalogue
Check out our 2021 Fitness Catalogue for all the latest fitness promotional items!

View
We have a wide range of fitness gear and products available through our vendors so get in touch with any ideas you have and we can make it happen!
Nothing here that suits your brand? We have 1000's of other corporate products available for all budgets and needs.
Email us at info@peakapparel.com or use the "Contact Us Form" now to inquire about our competitive pricing and "Complete Production Program Approach".
Contact Us
Contact Us